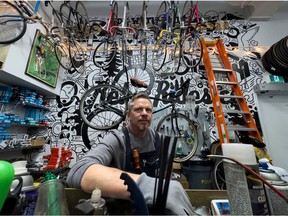 Article content
Two and a half years of COVID, the lingering effects of the trucker convoy occupation, and unbending bureaucracy at every level of government has knocked the wheels off Jason Komendat's dream of a Sparks Street bike shop and café.
Article content
Owing nearly $130,000 in rent and property tax and with the downtown workers his business depends upon still mostly working from home, Komendat said his Retro-Rides shop will have to close for good at the end of October. In business on Sparks Street since 2017 — albeit in a more modest space on the same block — Komendat said his business evaporated because of the pandemic.
Article content
"There were 38,000 officer workers within a five-minute walk of Sparks Street and they all went home," Komendat said. "It's like your neighbourhood just burned down. Bike shops in other neighbourhoods are all doing fantastic. My clientele all went home."
Komendat, 55, has been planning Retro-Rides for more than a decade, since sitting with his two young daughters at the kitchen table and brainstorming up a family business with a bike shop and a coffee bar. Komendat, a bike fanatic with a passion for vintage two-wheelers, began the business in 2012 out of his home and moved to a location at 65 Sparks in 2012.
Article content
"For downtown commuters the word spread like wildfire," said Komendat. "We concentrated on service. People came in and said, 'Can you fix my bike?' and we'd say 'Yes.' They'd say, 'Can you fix it today?' And we'd say "Yes. What time do you need it by?' We worked really, really hard."
He filed a business plan with Public Works and Procurement Canada to move to a larger space at 79 Sparks with room for the café. He poured more than $100,000 into the space, not including the 1,200 of his own hours he put into construction.
Then came COVID. The bike shop was considered an essential service, so Komendat opened up the service side of the shop, but kept the café closed.
"The staff kept coming in, but we didn't even know if we were risking our lives or whether we could catch some deadly disease. But we were deemed an essential service for a reason. We have a lot of people depending on us. I couldn't in good conscience close the business."
Article content
He and his daughters held off opening the café until May 2021, when PSPC said they couldn't wait any more and had to open.
"They said you signed your lease in 2019 you can't delay any longer," Komendat said. "But you know what? The city was in a lockdown. The only reason we hadn't opened is that it wasn't financially viable."
Business was modest that first pandemic summer. They tried bringing in live music for their outdoor patio. Nothing helped.
"My daughters brought the café to life. They designed the recipes. Everything is made from scratch. We really worked hard to get the place open, but there was nobody downtown."
The café closed last December, but they held out for a winter resurgence.
"Winterlude was supposed to happen in February, then Omicron hits. Winterlude is cancelled. Then the city valet parks a bunch of trucks in our neighbourhood. It was awful. That was really the final nail in the coffin for downtown."
Article content
Since the occupation, the city has made the downtown a no-go zone three times because of various protests: a convoy of motorcycles, a rally for Dutch farmers and Canada Day celebrations that were moved to LeBreton Flats.
"I was here on my patio for 11 hours on Canada Day selling cheap beer to the insurrectionists," he said. "I was desperate. I had to just smile and wave at them."
The downtown has never really recovered, he said, but compounding that has been an intransigent bureaucracy. Although his business opened in May 2021, it took 16 months for the city to deliver his first property tax bill, too late for Komendat to apply for tax relief programs that had expired. Komendat shares the space with a bike tour company, so his business owes half the $34,000 tax bill.
Article content
Nor did Retro-Rides qualify for a federal wage subsidies because, even though the shop was losing money, business wasn't down enough to meet the 50 per cent threshold.
The city of Ottawa offered relief for the three weeks lost business during the occupation, but Komendat says that isn't nearly enough.
"The fact is, three weeks is meaningless," he said. "We're still feeling the effects of the convoy."
He did receive a $60,000 loan from the federal government, of which $20,000 will be forgiven if he can pay it back by the end of 2023 — something he says he won't be able to do unless business picks up. And finally, PSPC says he owes $55,000 in back rent, which if not paid by the end of October, the government says it will turn over to a collection agency.
Article content
Komendat has met with Somerset Ward Councillor Catherine McKenney, city officials, local MPP Joel Harden, Ottawa Centre MP Yasr Naqvi and staff with PSPC. All have been sympathetic, but none have offered concrete solutions.
He bristles when he thinks of the $2.9 million tax break the city gave to a luxury car dealership when it opened up on Montreal Road.
"What I'm asking for is not forgiveness," he said. "I'm asking for a 10-year payment plan on my portion of the property taxes and on back rent with no interest," he said.
"Look around you," he said, gesturing to the papered up windows on Sparks Street. "Look at all the empty storefronts. Everyone one of those is somebody's dream that's been destroyed."
Editor's Note: Jason Komendat owes $55,000 in back rent. An earlier version of this story contained an incorrect amount.
Poilievre blasts Trudeau over 'tax hikes' in first question period clash as leader

Ottawa school board creates anonymous tip line to report bullying, threats