Determining the greatest Olympian of all time is a subjective question, not simply a matter of mathematics.
When set against US swimmer Michael Phelps' collection of 23 golds, and Paavo Nurmi and Carl Lewis' track and field collections of nine apiece, Emil Zatopek's four do not quite stack up.
But, then, the hattrick the great Czech soldier achieved at the Helsinki Olympics in 1952 was unprecedented. Seventy years on, it remains unmatched in the annals of distance running.
Winner of the 10,000m gold at the London Olympics in 1948, Zatopek successfully defended that title in the Finnish capital, then won the 5000m, before announcing that he would be contesting the marathon on the final day of competition, 27 July.
It would be the first 26.2-mile race of his hugely eventful life.
It was described as a last-minute decision but in fact the initial suggestion that he should run the marathon as well as the 5000m and 10,000m in the Finnish capital had come from one of his army bosses the previous year.
As Zatopek recalled: "A lot of people were saying, 'So, Emil, it's going to be two gold medals in Helsinki, not just one like in London, right?' Lieutenant-Colonel Sabl had a more interesting idea: 'You know, the nicest solution would be to enter all three long distance events, and win them all.
"'What's a marathon for you, since you're running 30km a day anyway?'"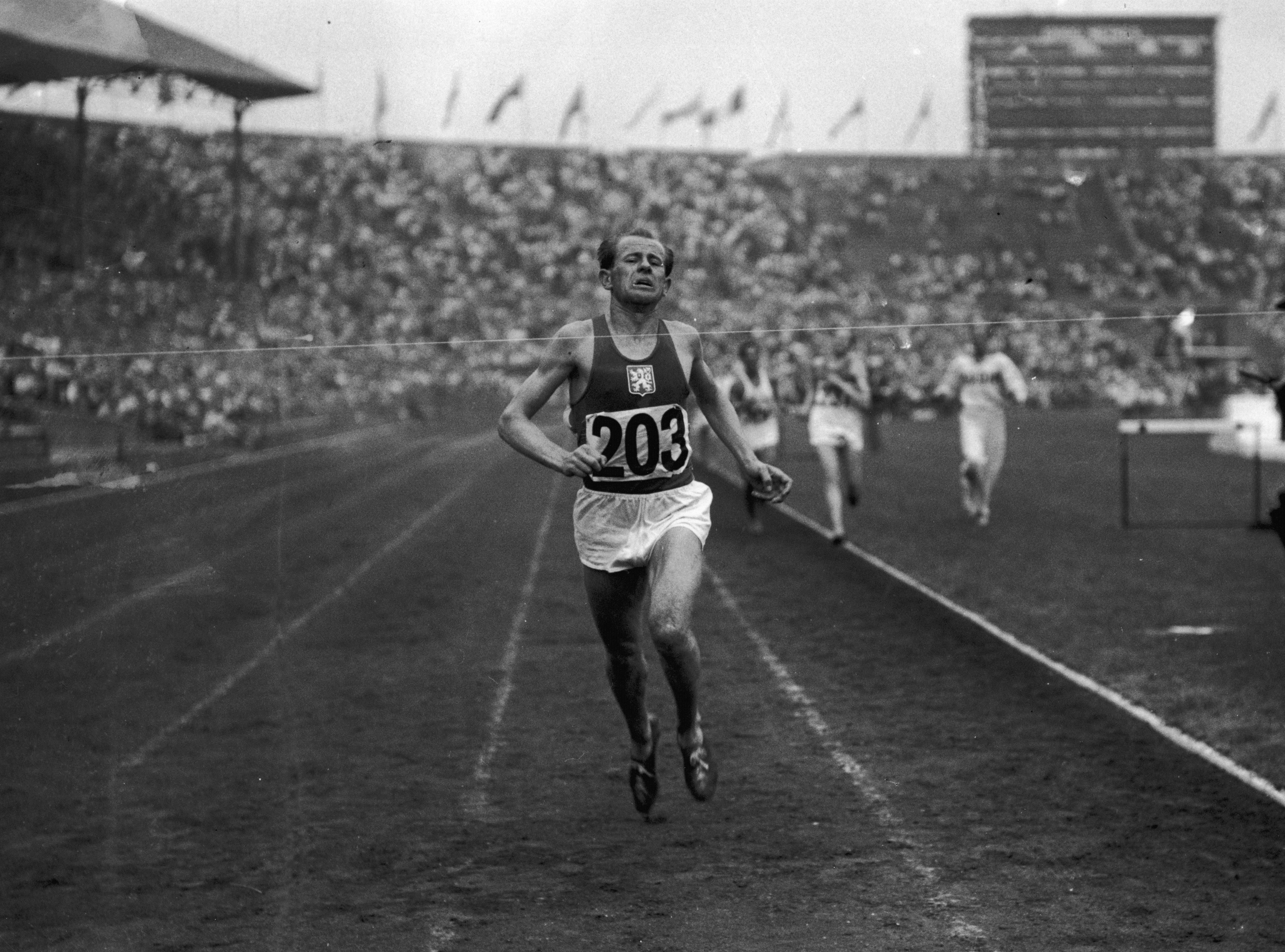 Emil Zatopek (© Getty Images)
As Pat Butcher pointed out in his brilliant 2016 biography, Quicksilver: The mercurial Emil Zatopek, 12 months before the Games Zatopek chose to test his endurance by running two 20,000m track races in the space of two weeks.
In the first, he knocked over a minute off Viljo Heino's world record with 61:15.8, also improving the Finn's one hour record en route with 19,558m.
"I wasn't even out of breath afterwards," Zatopek reflected. "A world record was never so easy. I'd discovered that races above 10km were easier for me than those under."
In the second race, Zatopek ran the first sub-one-hour 20,000m in history – 59:51.8 – plus the first 20km-plus one-hour run, reaching 20,052m before stopping.
After winning the 5000m final in Helsinki, becoming the second man after Finland's Hannes Kolehmainen in 1912 to achieve the Olympic 5000m-10,000m double, Zatopek went to the training track to test out the pace he needed to run to be among the contenders in the marathon. To his astonishment, the Czech team coaches kept imploring him to slow down, shouting at him that he was running far too quickly.
'Human Lokomotiv'
The son of a carpenter, Zatopek was born on 19 September 1922 in Koprivnice, Northern Moravia. As the seventh of eight children, his parents had run out of typical Czech or Moravian names so gave him a French one.
He started running when he was sent to become a live-in apprentice at the Bata shoe factory in Zlin. Introduced to interval training by coach Dr Ali Haluza, such was his zest for hard work he worked up towards training three times a day, often completing 100 x 400m reps.
After joining the Czech Army, he would keep fit by running 10-12km in deep snow in the forests near the Milovice Academy wearing heavy boots and three pairs of jogging bottoms.
As Butcher recounts in his book, Zatopek talked about his prodigious training load in a 1967 BBC Radio interview with Harold Abrahams, the 1924 Olympic 100m champion. "My maximum was 50km in a day, 350km in a week, about 200 miles," he told the former British sprinter.
His determination mirrored in a distinctively tortured running gait that earned him the sobriquet the "Human Lokomotiv", Zatopek's capacity for speed endurance took him past 18 world records between 1951 and 1955, at distances ranging from 5000m to 35,000m.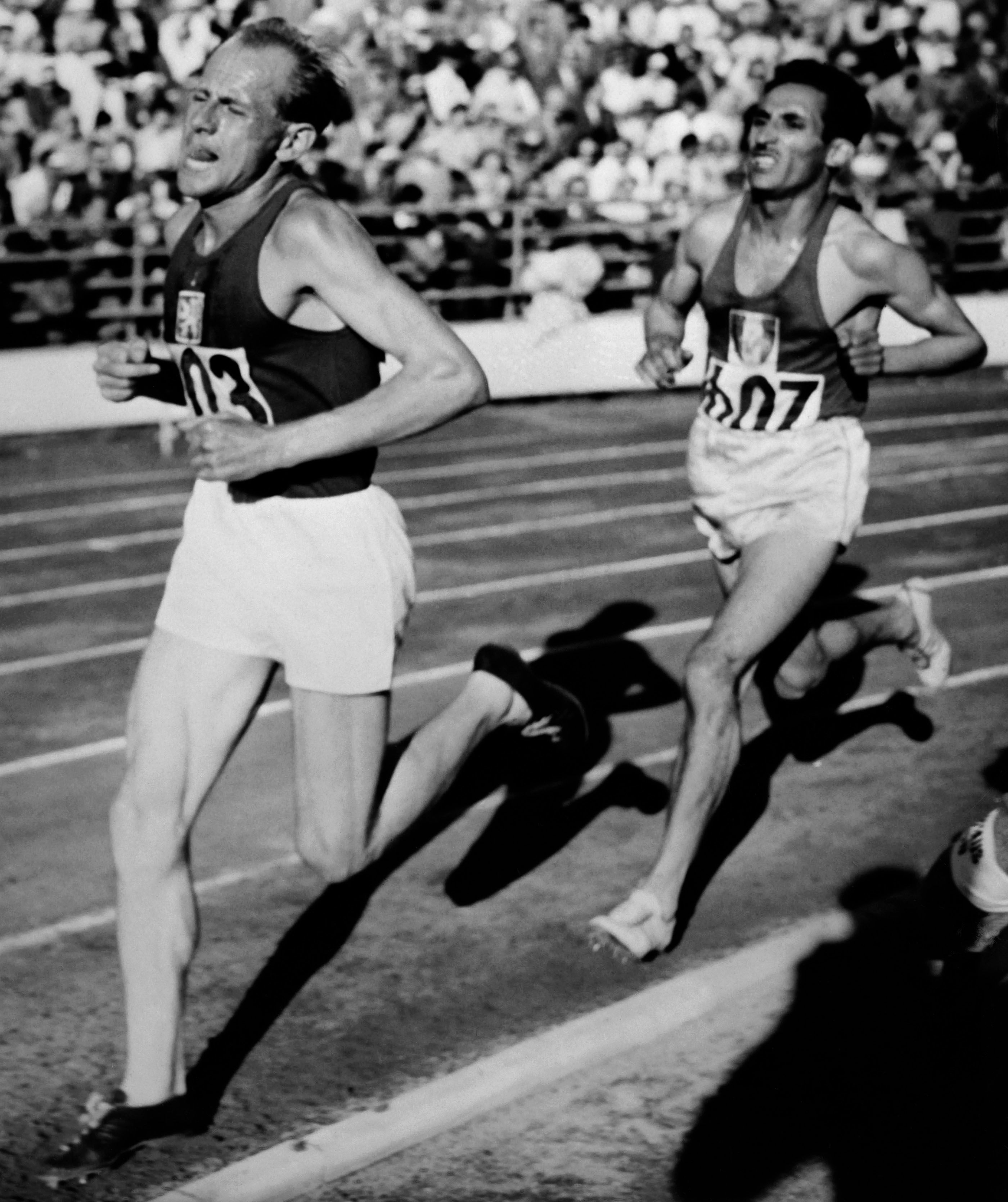 Emil Zatopek leads in front of Alain Mimoun during the Olympic 5000m in Helsinki 1952 (© AFP / Getty Images)
"Pace too slow"
So when it came to the marathon in Helsinki in 1952, seventy years ago today, Zatopek was equipped for the challenge of facing the man he considered to be the favourite. More than equipped, it transpired.
Six weeks earlier, Jim Peters had taken a stunning six minutes off Kitei Son's world record with a time of 2:20.42.2 in the Polytechnic Marathon, from Windsor to Chiswick in the western suburbs of London.
After enduring the humiliation of being lapped by Zatopek in the Olympic 10,000m final in London's Wembley Stadium in 1948, Peters had turned to the challenge of the marathon, training twice a day and logging 130 miles a week while running an optician's practice near the English capital.
He proceeded to take the world record down to 2:17:39 in 1954, the year he infamously staggered to a severely dehydrated halt within sight of the line in the Empire Games marathon in Vancouver, but in Helsinki in 1952 the barrier-breaking Briton was no match for the not so much burgeoning as steamrollering phenomenon of Zatopek.
Taking note of Peters' starting number in the newspaper the day before, Zatopek sought him out on the start line and introduced himself. Peters' intention was to lead from the gun and burn off the opposition but, wilting in the heat – as he was to in Vancouver – he was caught by Zatopek and the Swede Gustaf Jansson after 15km.
"For about two to three miles we ran alongside each other, none of us saying a word," Peters recalled in his autobiography In The Long Run. "Then, just before we were due to turn for home, Zatopek suddenly spoke to me.
"'The pace?' he said. 'Is it good enough?' At that moment I was just about all in, but I didn't want to show it, so I said, 'Pace too slow.'
"He looked at me for a few moments, as calm and unruffled as if he were sitting down at a picnic instead of having run 12 miles very fast, then he said: 'You say too slow. Are you sure the pace is too slow?'
"I said, 'Yes'. He shrugged his shoulders and a few moments later he and Jansson put on a little spurt and opened up a gap of about 10 yards.
"Then Zatopek turned round as if to make sure where I was, and having satisfied himself, he set about in deadly earnest to the business of getting his third Olympic gold medal."
The fading Peters dropped out at 20 miles, suffering from cramp. Zatopek entered the stadium with a clear lead and chants of "Za-to-pek! Za-to-pek! Za-to-pek!" echoing around the arena.
He crossed the line in 2:23:03, an Olympic record. The victorious Jamaican men's 4x400m relay quartet hoisted him on to their shoulders for a mutual lap of honour.
It was his second joint celebration of the Games, his victory in the 5000m having coincided with the gold medal javelin success of his wife, Dana Zatopkova.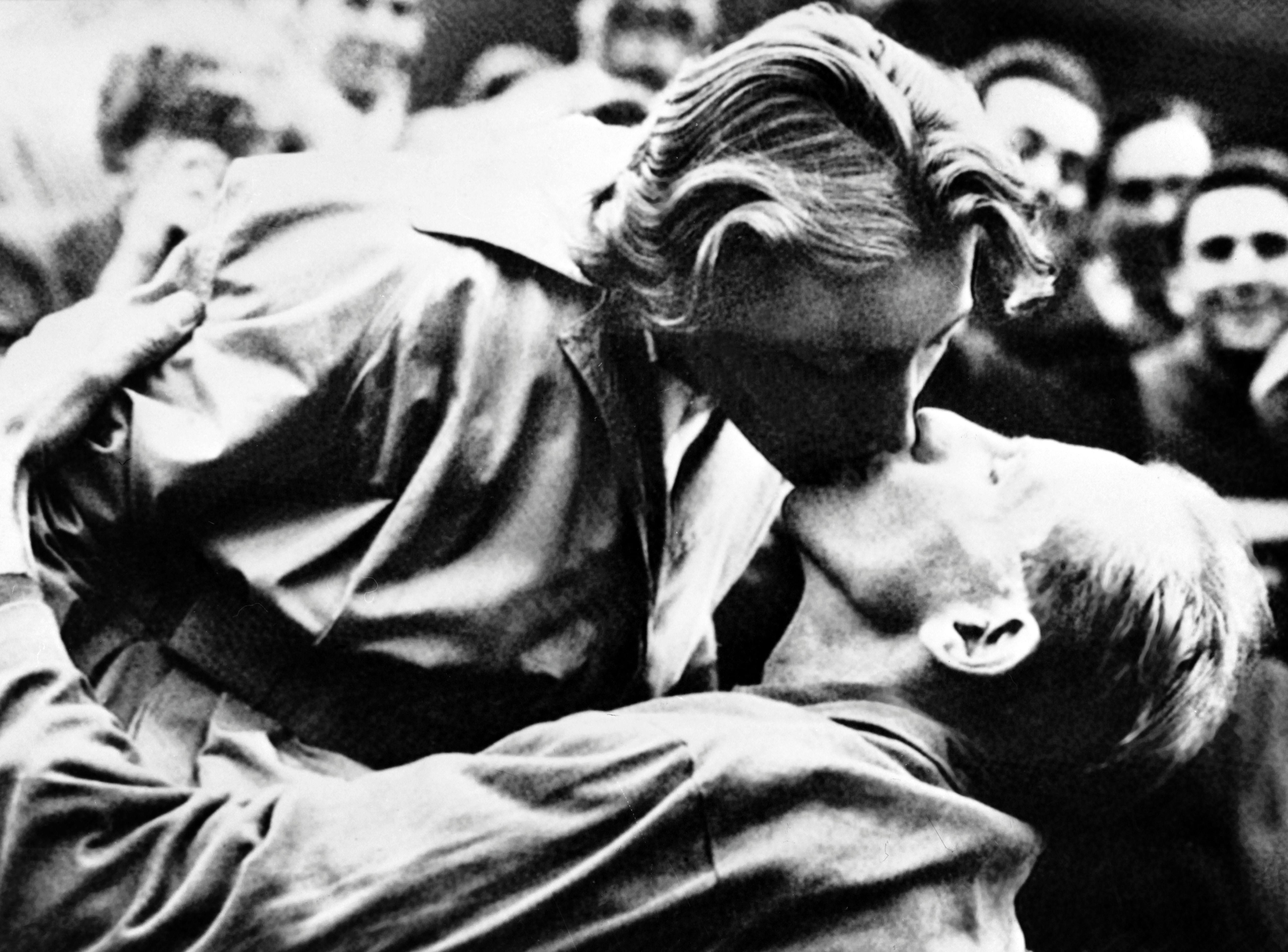 Dana Zatopkova and Emil Zatopek at the 1952 Olympic Games (© AFP / Getty Images)
In 1956, at the Melbourne Olympic Games, Zatopek returned to the Olympic stage to defend his marathon title. Just six weeks after undergoing a hernia operation the gutsy Czech came sixth.
Zatopek's tracksuit top from Melbourne was donated by Dana in 2018 to the World Athletics Heritage Collection. It has been on display in the Museum of World Athletics (MOWA) exhibition in Eugene for the last month and can be permanently viewed in glorious 360-degree 3D on MOWA's online museum platform.
"You deserve it"
After Soviet forces quelled the Prague Spring uprising in 1968, Zatopek was banished from the Czech capital to the notorious Jachymov uranium mine, where he worked as a labourer for six years.
Long after his death in 2000, aged 78, his legend lives on – to many of us, as the greatest Olympian of all time.
To qualify for consideration for such a subjective honour requires more than mere athletic dominance. It requires the kind of golden spirit Zatopek showed when the great Australian world record-breaker Ron Clarke visited him in Prague.
Clarke suffered misfortunes in the Olympics, collapsing in the high altitude at the 1968 Games in Mexico. When Zatopek dropped him off at Prague airport, he handed him a small parcel and said: "Not out of friendship but because you deserve it."
When the plane was airborne, Clarke retired to the privacy of the lavatory and unwrapped the box. "There, inscribed with my name and that day's date, was Emil's Olympic 10,000m gold medal from 1952," he recalled.
"I sat on that toilet seat and wept."
Simon Turnbull for World Athletics Heritage